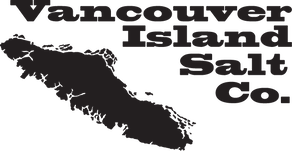 Seasoning is by far one of the most important things when it comes to food.
A couple years back I connected with the Vancouver Island Salt Co. to discover what Canada's first sea salt harvestry was doing, sample their product and help spread the word on their product.
Vancouver Island Salt Co. takes pride in offering handcrafted artisan salts, harvested with care from the cold, clear waters of Vancouver Island in British Columbia, Canada.
​Helmed by former chef and founder Andrew Shepherd, salts are lovingly created products that are a happy harmony of mother nature and the tides, patient harvesting work and artisanal craftsmanship.
Their unrefined salt products include the first Canadian fleur de sel, pure sea salt, smoked sea salt and seasonal sea salt flavour infusions, available through your local food purveyors and quality grocers.
I am a big fan of their fleur de sel to finish my plates and love their smoked sea salt on grilled meats.
Please head over to their website to learn more.
Support, Real. Canadian. Salt!
Comments