Celebrating Canadian Excellence in food, music and sport and making a difference for youth has become more important than ever this year.
The Great Kitchen Party normally sees hundreds gather to try amazing food by local Chefs in a culinary battle, vying for the chance to represent their city, at the Canadian Culinary Championships.
Due to the current state of our restaurants and economy amidst a Global pandemic, things could not remain the same.
As I have stated repeatedly during the current health crisis, the most important part to success is how you pivot your business.
GKP did just that!
This year sees local Chefs creating take-out menus for supporters of GKP as well as the organizations they support MusiCounts, CFCC and B2ten.
Diners could choose from six amazing menus offered by our Ottawa Chefs to enjoy on Thursday, October 22, 2020 along with tickets to view the online show, curated by Jim Cuddy and featuring some of Canada's most iconic musicians.
Judging this year's condensed local version of the competition are Anne DesBrisay, GKP Senior Judge, award-winning food writer, cookbook author and Sheila Whyte, award-winning business owner, food critic and food security advocate.
I had the pleasure of joining this amazing day of food along with one other media despite the cool and wet weather in a tour of outdoor dining to taste and cover our local Chefs' competing main dishes.
Prominent main ingredients included poultry, whether in its full form or in a sauce, and also featured lobster, lamb and goat.
To rigorously evaluate all the dishes served, I completed a scorecard to assess all aspects of the main dishes and wine pairings served.
Here are my picks in order by scorecard total:
1. Chef Dave Godsoe – Restaurant e18hteen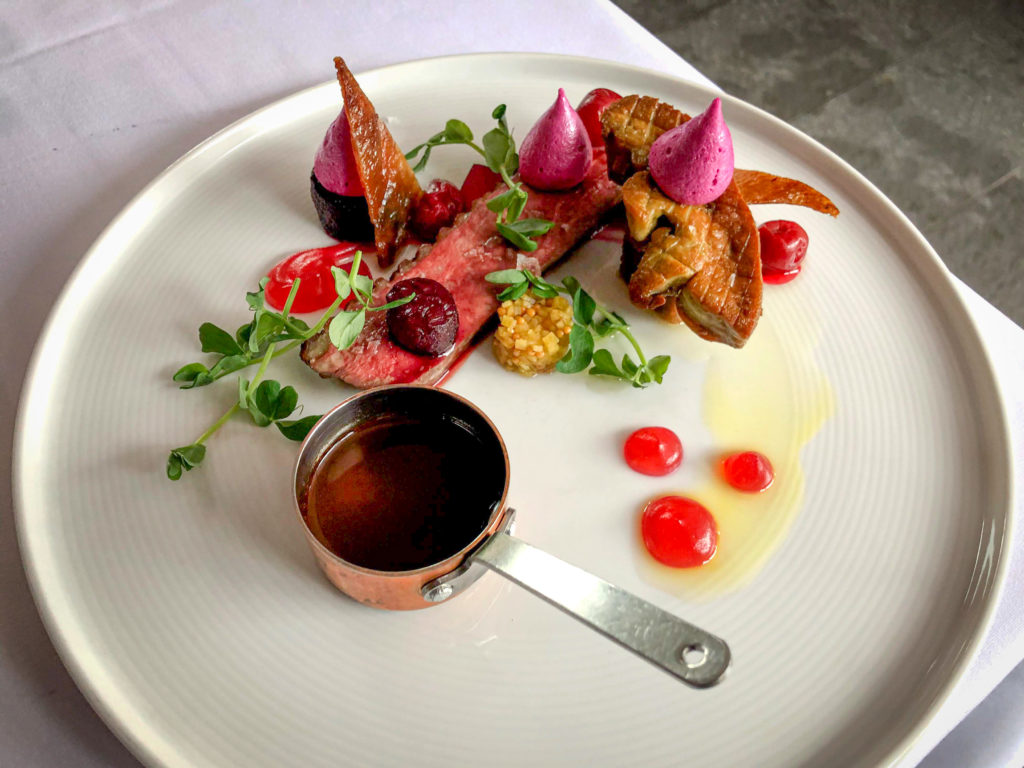 Description: Dry-aged & hay-roasted Hudson valley duck, duck confit pavé, seared foie gras, sour cherry, beet & juniper agrodolce.
Wine: Two sisters 2016 Cabernet Franc, Niagara, ON
From the presentation to the seasoning, this dish came out on top for me. Numerous techniques were executed perfectly and precisely. The house dry-aged duck was cooked perfectly with the skin having that perfect crisp. The flavour and aroma of the hay was pleasant. The seared foie gras was perfectly cooked and had a great crust. The duck pavé was flavourful and tender. The beet meringues were light and airy – simply melting in your mouth. The sour cherries and gel really helped cut the fats in this rich dish. The Ungava gin-infused beet and juniper agrodolce was succulent, rich and tart. The wine's deep flavours, body and aromatics of ripe black cherries really complimented this dish.
2. Chef Yannick La Salle – Les Fougères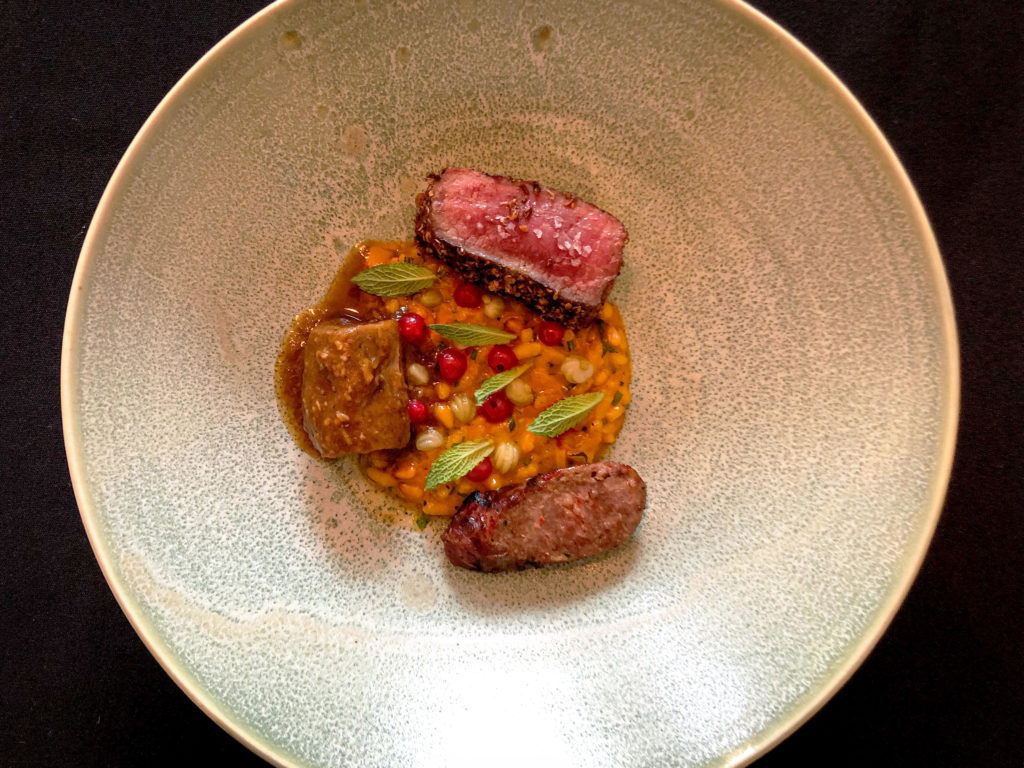 Description: West Quebec lamb; braised shoulder and sausage with feta and orange; Juniper farm carrot risotto with red currants, nasturtium capers, pinenuts; lamb jus with sumac.
Wine: Meldville 2017, Syrah, Niagara Peninsula, ON
Inspired by his recent trip to Morocco with his fiancée, the herbs and spices used were very representative. The lamb loin crust was delicious atop the perfectly cooked piece of meat. The braised shoulder was fork tender and well seasoned. For me, the sausage lacked some fat – it was quite lean and on the dryer side. The carrot risotto was succulent and naturally sweet however, each grain of rice in a perfect risotto should be al dente, and I found it was slightly overdone. The addition of nasturtium bud capers made from the flowers grown in the Les Fougères garden were a nice touch. The lamb jus was perfectly seasoned, and I could have eaten it by the spoonful! The wine pairing really highlighted the flavours and spices of this dish.
3. Chef Jason Sawision – Stofa Restaurant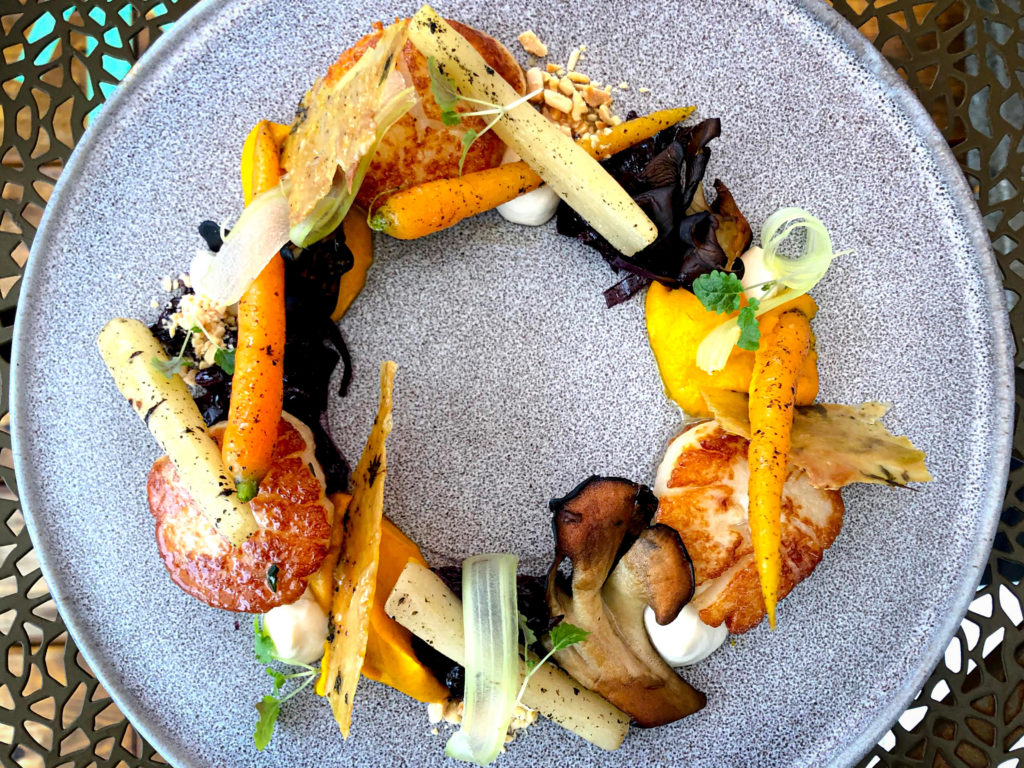 Description: Scallops, braised red cabbage, carrot-carraway purée, lobster & chicken jus, almond crumble, celery, salsify & carrots in nori butter, crispy chicken skin, lemon balm
Wine: Stratus 2016 White, Niagara, ON
Three beautiful plump and perfectly seared sea scallops were the focus of this dish. They were perfectly cooked and translucent in the center. The mushrooms brought a great earthiness and the purées were silky smooth. The purées did however bring a lot of sweetness which at times unbalanced some bites. The carrots were well cooked however, the nori butter lacked in seaweed flavour. Although almonds were likely added for some crunch, I didn't enjoy the flavour combination. The crispy chicken skin was delicious as was the lobster and chicken jus. The wine pairing complimented this dish with its fruity aromas and the sweetness of several components, along with the natural sweetness of the scallops.
4. Chef Daniela Manrique – The Soca Kitchen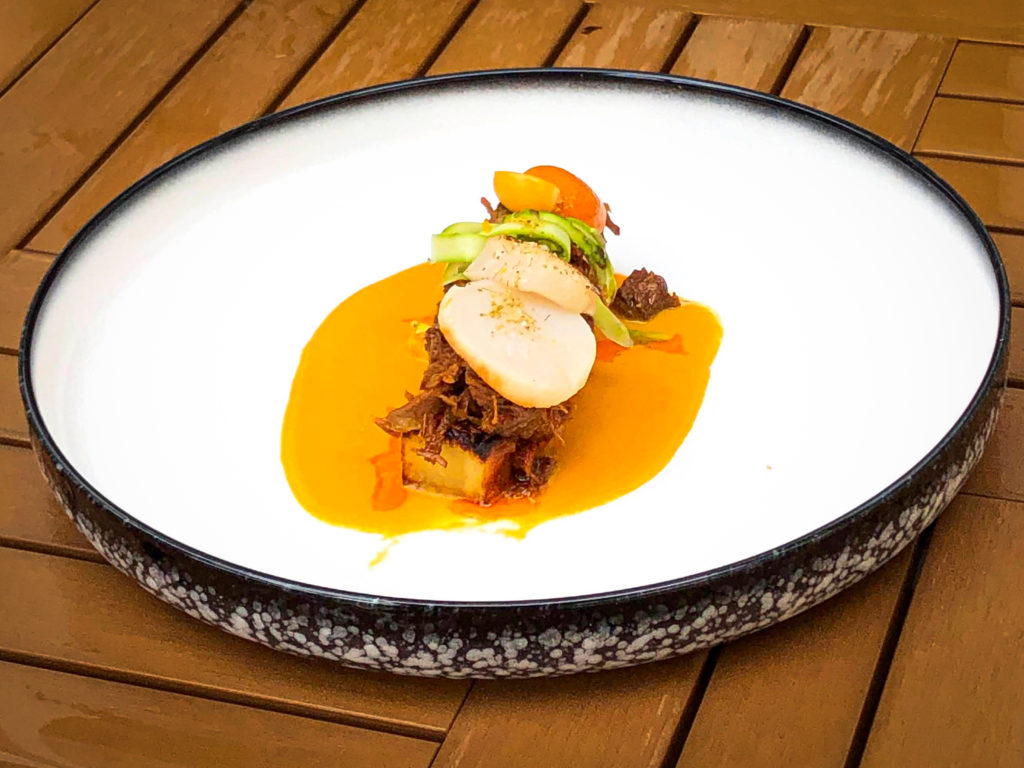 Description: Chivo [Goat] en Coco | Saffron Bisque | Yuca Torte | Open Fire Scallop | Fennel Pollen| Asparagus Ribbons | Candied Orange Gooseberries
Wine: Thirty Bench 2016 Small lot Merlot VQA, Beamsville Bench, ON
The slow-cooked lime and coconut milk goat was tender and flavourful. The saffron bisque caught me off-guard with its deep crustacean flavours and very heavy salt content. The yuca torte was the complete opposite, offering an overly sweet center. The scallop was simply kissed by open fire and translucent edge to edge. The candied gooseberries were good but brought even more sugar to the plate. Besides the overly salted bisque, the components were well executed by themselves, but there was a lack of cohesiveness to bring it all together.
5. Chef Shane Brown – Gezellig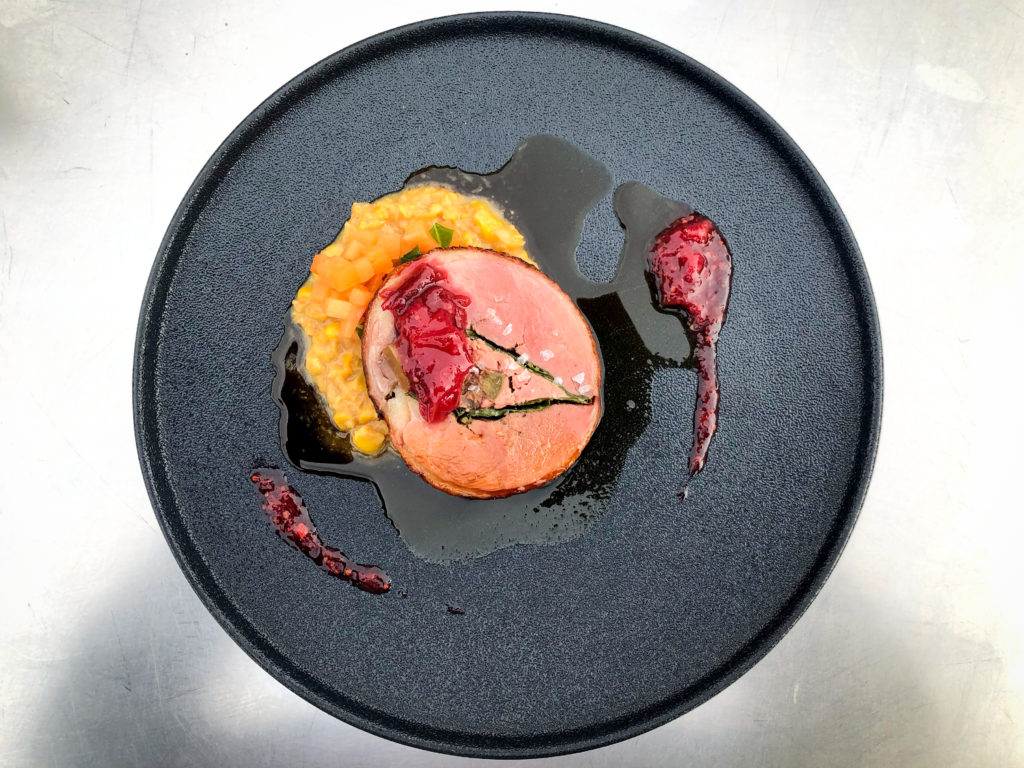 Description: Whole duck stuffed with confit duck leg with pistachio, liver, port poached nectarine & collard greens. Served with a plum mostarda, creamed corn and pickled peaches.
Wine: Cave Spring 2018 Estate Pinot Noir, Beamsville Bench, Niagara, ON
The duck itself was lacking in seasoning. The stuffing was good but was lacking in salt. The plum mostarda was extremely salty. The creamed corn was a little loose and the pickled peaches almost felt like an afterthought.
6. Chef Billy Khoo – Fauna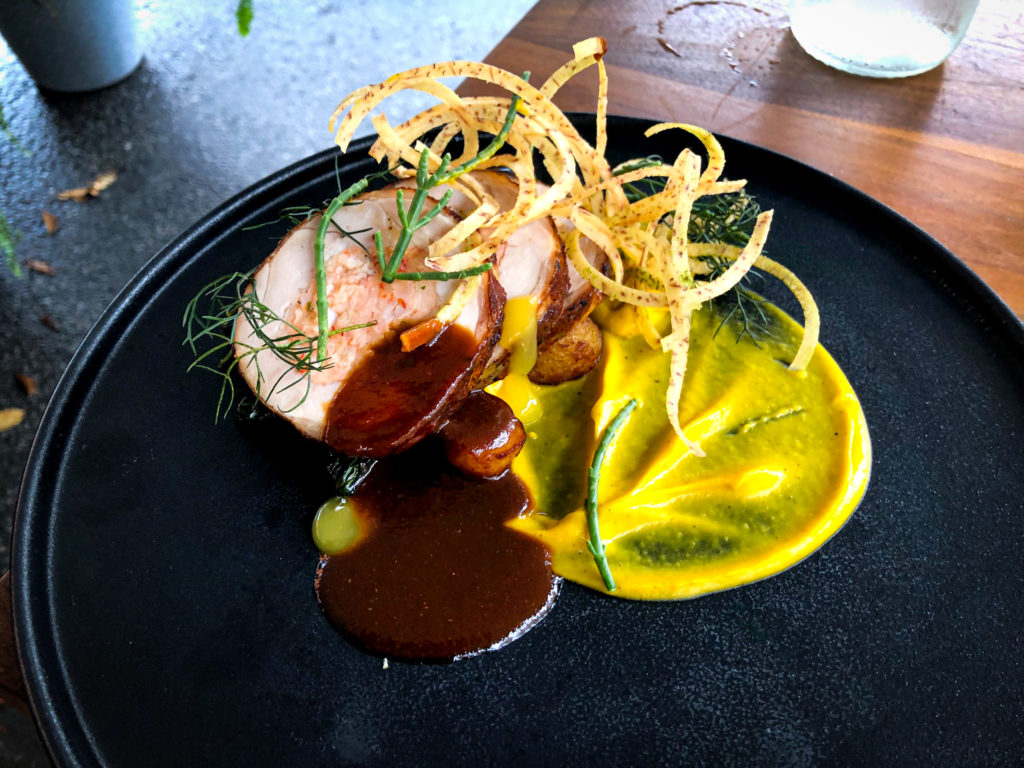 Description: Smoked Hen & Lobster. Sauce américaine, brown butter pumpkin puree, confit potato, kale, sea asparagus, fried taro.
Wine: Therianthropy 2019 Chardonnay, Niagara, ON
The smoke overshadowed the guinea hen and the lobster. The meat was dry and the lobster farce was lacking in seasoning. Both sauces were good. The fried taro only offered texture and was lacking in flavour. The kale was simply sautéed and the sea asparagus served in their natural form.
Congratulations to all competing Chefs! The official winning Chef will be announced on October 22, 2020 during the Online Show.
For more information on this event visit the GKP website: http://greatkitchenparty.com/
Comments